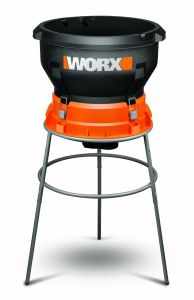 The WORX WG430 has been the best-selling leaf mulcher for quite some time. It is very easy to use and shreds leaves quickly.
The WORX WG430 is easy to assemble, no tools are needed. Afterwards you can disassemble it, making it easy to store even if you don't have much space. The WG430 features a bladeless mulching system, instead of metal blades, it uses normal heavy-duty grass trimmer line (0.090-inch x 13-inch) to shred the leaves. This makes it safer to use than shredders with blades but on the other hand, the WG430 can only shred leaves, not twigs. If you put in sticks or other hard things, the cutting cord will wear out quickly.
Shredders are noisy but the WORX WG430 is relatively quiet, still hearing protection is highly recommended. A bigger potential problem is that it generates a fair bit of dust. Be aware that the WG430 is not suitable for huge amounts of leaves. For home owner with a couple of trees it is a good solution but if you have a large garden with plenty of trees you may prefer a more powerful shredder, which of course will cost much more.
The WORX WG430 comes with a 2 year warranty. You get one universal bag holder and 24 replacement lines with the WORX WG430 Leaf Mulcher/Shredder.
The customers have given the WORX WG430 Mulcher/Shredder an average rating of 4.2 out of 5. It is a very good verdict for such a cheap shredder. Most customers were happy with the WORX WG430, it does what it is supposed to do. It is easy to use and does not take up much space when not in use. The main complaint was that it can't handle sticks, so you have to be careful what you feed it. Here you can read WORX WG430 customer reviews.
Pros
Good value for the money
Shreds leaves very fast
Lightweight and compact
Cons
Can only handle leaves
Generates plenty of dust

WORX WG430 Leaf Muclher/Shredder Specifications
| | |
| --- | --- |
| Voltage | 120V~60Hz |
| Amps | 13A |
| No load speed | 8500/min |
| Cutting diameter | 13'' (320mm) |
| Line diameter | 0.09'' (2.1mm) |
| Machine weight | 20 lbs (9kg) |
| Shipping weight | 26 lbs |


The WG430 is a very good solution if you have plenty of leaves to get rid of. It is not perfect but it is very easy to use and it shreds leaves very quickly.
You can buy the WORX WG430 Leaf Muclher/Shredder at Amazon.com, taking advantage of Amazon's low prices and excellent customer service. Click here to go to Amazon.com and have look at the WORX WG430.





Information From The Manufacturer
If you can't burn leaves or rake them into the street, you need a better way to deal with the mess. This nifty Worx leaf mulcher is a great solution. It uses a powerful 120V, 13 Amp motor and a bladeless mulching system that uses normal heavy-duty grass trimmer line to reduce the volume of your leaves to 1/11th of the original size. And best of all, it turns the leaves into a useful mulch and compost that you can recycle into your garden or flowerbeds. The easy-to-operate system features a 13in. cutting diameter and can mulch up to 53 gallons of leaves a minute. It assembles quickly without tools and stores easily when not in use. 2-year limited warranty. Flex-a-line bladeless mulching