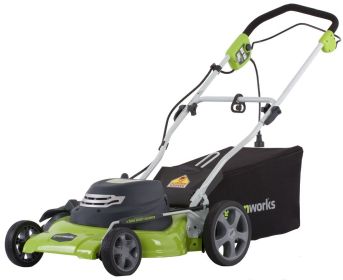 The GreenWorks 25022 Electric Lawn Mower gives you excellent value for the money. It is a good lawn mower with an attractive price.
A corded electric lawn mower has a number of advantages, they are quiet, environmentally friendly, require very little maintenance and no problems with gas or spark plugs. An electric mower is also cheaper to operate than gas powered models. The GreenWorks 25022 is not a self-propelled lawn mower but it is lightweight and is easy to push around the lawn. The rear wheels are 10″ and the front wheels 7″ which makes it easy to maneuver and turn around.
Adjusting the cutting height is quick and easy, a single lever lets you adjust the height between 1.5 and 3.75 inches (7 different cutting heights). The Greenworks 25022 has three different options for the grass clippings, rear bagging, side discharge and mulching attachment. It has a 20 inch cutting deck, allowing you to mow your lawn quickly. All in all, it is a very good electric lawn mower. It is also versatile, you can even use it as a vacuum/mulcher for leaves, keeping both your lawn and walkways clean.
A corded electric mower has only one big drawback, the cord. The maximum length of the extension cord is 100 feet, so you can't get further away than 100 feet from a power outlet. This is seldom a problem but if you have a large lawn, you may have to look for another solution than a corded lawn mower. Obviously, you must also be careful not to run over the cord with the mower.
The GreenWorks 25022 comes with a 4 year warranty against defects in materials, parts, or workmanship (original purchaser only) Before you can start using your GreenWorks 25022 mower, you need to assemble it. Fortunately, this is very is easy. Note that no extension cord is included with the mower.
The customers have given the GreenWorks 25022 electric mower an average rating of 4.3 out of 5. This makes one of the highest rated lawn mowers. Almost all buyers were happy with their GreenWorks lawn mower. Easy to push, quiet and very good value for the money were common comments. Here you can read GreenWorks 25022 customer reviews.
Pros
Lightweight, easy to push
Low maintenance and very cheap to operate
Very good value for the money
Cons
Limited range, 100 feet from power outlet


GreenWorks 25022 Electric Lawn Mower Specifications
| | |
| --- | --- |
| Motor | 120 V AC, 60 Hz, 12 A |
| No-load speed | 3600 RPM |
| Cutting path | 20″ (50.8 cm) |
| Height adjustments | 1 1/2—3 3/4″ (3.8 cm-9.5 cm) |
| Functions | 3-in-1: Mulch, side discharge or rear bag |
| Weight | 56 lbs (25.4 kg) |


The following is included with the GreenWorks 25022 Mower
Mulch plug
Grass catcher bag
Side discharge chute
Owner's Manual
For more details about the GreenWorks 25022 Electric Lawn Mower, please check the GreenWorks 25022 manual here
You can buy the GreenWorks 25022 electric lawn mower from Amazon.com, taking advantage of Amazon's low prices and excellent customer service. Click here to go to Amazon.com and have a look at the GreenWorks 25022.


Information From the Manufacturer
Green Works 20″ Electric Bag/Mulch/Side Lawn Mower
Powerful 12 Amp motor for getting the job done; California Proposition 65; Robust steel 20″ cutting deck offers highest performance and durability; 3-in-1 feature provides multiple options for grass clippings from rear bagging, side discharge and mulching capabilities for versatile needs; Single lever 7-position height adjustment offers range of cutting height from 1 1/2″ to 3 3/4″ for the perfect cut on all types of grass; Wider 10″ rear wheels and 7″ front wheels makes it easy to maneuver around uneven terrain and around your flower beds.