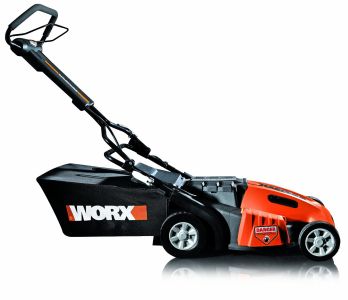 The WORX WG788 is a very interesting lawn mower but it it is expensive. Is it really worth the money?
The WORX WG788 certainly is a very good lawn mower. It is quiet, environmentally friendly, powerful and you don't need to worry about running over the extension cord.
The WG788 mower is easy to operate. It has two modes, quiet and power. The power mode is for difficult patches when you need a bit of extra power. You can quickly adjust the cutting height, from 1.5 up to 3.5 inches. It offers three cutting options. The mulching feature chops clippings and distributes them evenly to help the lawn hold moisture and nutrients. The side discharge allows clippings to be swept quickly from the cutting chamber. And the bagging feature allows grass and leaves to be conveniently collected in the included grass catcher bag.
The 36V battery can cover a distance of up to 18,500 square feet on a single charge. In power mode, the battery drains faster. It takes up to 16 hours to recharge the battery but this is seldom a problem. It is a good idea to take good care of the battery, it is expensive to replace.
Quite clearly, the WORX WG788 is a very good lawn mower, unfortunately it is relatively expensive. But if you want a quiet and low maintenance lawn mower, the WORX WG788 is well worth having a closer look at.
The WORX WG788 lawn mower is covered by a 2 year warranty, except for the battery which comes with a 1 year warranty.
The customers have given the WORX WG788 an average rating of 4.0 out of 5. Most customers very happy with their WG788 lawn mower but some failed units were also reported. Quiet, powerful, easy to operate and easy to push were common comments. Here you can read WORX WG788 lawn mower customer reviews.
Pros
Quiet
Powerful
Low maintenance
Cons


WORX WG788 Lawn Mower Specifications
| | |
| --- | --- |
| Max. Cutting Area Per Charge | 18,500 square feet |
| Battery | 36V |
| Deck Width | 19 |
| Cut Height Range | 1.5″ – 3.5″ |
| Grass Bag Capacity | 1.6 Bushels |
| Charging Time | 16hr (approx.) |
| Energy Star Certified | Yes |
| Machine Weight | 87lbs |

You get the following with the WG788 cordless lawn mower
Removable 36-volt battery
Charger
Mulch insert
Side discharge chute
Grass bag
Safety key
User's manual
For more details about the WORX WG788 lawn mower, please check the WG788 User's manual here
You can buy the WORX WG788 Cordless Lawn Mower from Amazon.com, taking advantage of Amazon's low prices and excellent customer service. Click here to go to Amazon and have a look at the WORX WG788 mower.





Information From the Manufacturer
WG788 Features: Cordless lawn mower. Adjustable mowing height from 1.5" to 3.5". Intellicut torque on demand technology ensures power in tough conditions. 6 Position, 1 touch cut height adjustment. Ergonomic adjustable handle reduces fatigue and improves control. Fully collapsible handle for compact storage. Battery power level indicator.
WG788 Specifications: Cuts up to 18000 square feet in a single charge. 3-in-1 Mower mulches, side-discharges and bags. 36 Volts lead acid battery. Dimensions: 15" H x 23" W x 39" D. Warranty: 30 Days satisfaction, 2 years warranty. Cordless mower with removable, rechargeable 36-volt battery