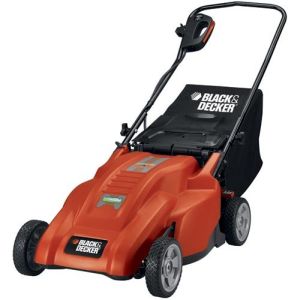 Note that the Black & Decker MM1800 has been replaced by the Black & Decker MM2000 20-inch lawn mower. Here you can learn more about the Black & Decker MM2000 lawn mower.
The Black & Decker MM1800 is one of the most popular electric lawn mowers. It is relatively lightweight, powerful, quiet and requires very little maintenance. For being an electric lawn mower, it is fairly cheap.
An electric lawn mower has a number of advantages compared to a gas-powered mower. They are for example much quieter and you don't need to worry about gas, spark plugs or fuel filters. An electric mower is also more environmentally friendly than gas-powered models. Additionally, they require less maintenance and are cheaper in the long run. Since the Black & Decker MM1800 is a corded electric mower, you don't need to charge batteries. But you are on the other hand limited by the cord. If you have a large lawn, a corded lawn mower may not be suitable.
Obviously, the extension cord is a potential problem. You need to be careful so you don't run over the cord. No cord is included, you need to buy one separately. Maximum recommended length is 100 feet.
The MM180 lawn mower is easy to assemble, easy to push and it is easy to adjust the height (One touch height adjust). It is not the most powerful lawn mower but it is sufficient for small and medium lawns. Since the Black & Decker MM1800 is electric it starts instantly without any problems.
The Black & Decker MM1800 mower comes with a 2 year limited warranty. Note It doesn't come with a mulch thrower, just a mulch attachment.
The customers have given the Black & Decker MM1800 mower an average rating of 4.0 out 5. Most of the users were happy with the Black & Decker MM1800, easy to push, quiet and no maintenance were common comments. But many had also noticed that it is as powerful as gas-powered mowers. On the whole most customers thought that they had got good value for their money. Here you can read Black & Decker MM1800 customer reviews.
Pros
Quiet
Compact
Very good value for the money
Cons
Not as powerful as many gas-powered mowers
Black & Decker MM1800 Lawn Mower Specifications
| | |
| --- | --- |
| Amps | 12 Amps |
| Cutting Path | 18 |
| Height Adjustment | Single lever |
| Weight | 42 lbs |
| Shipping Weight | 58 lbs |
| Cutting Heights | 1-1/4 to 3-1/2 |
| Mulching Capability | Yes |
| Ideal Property Size | Max 100 feet from power outlet |
| Power Source | Electric |
For more details, please check the Black & Decker MM1800 manual here
In summary, the Black & Decker MM1800 mower is a good solution for small to average lawns. It is not perfect but you get good value for your money. You can buy the MM1800 electric lawn mower at Amazon.com, taking advantage of Amazon's low prices and excellent customer service. Click here to go to Amazon.com and have a look at the Black Decker MM1800.


Information From the Manufacturer
Fast, powerful, and easy to start, the Black & Decker MM1800 18-Inch Electric Lawn Mower helps make yard work less of a chore. Thanks to its powerful electric motor, this high-performance mower will help you create and maintain a manicured lawn without the hassles, expense, and emissions of a gas-powered model.

The MM1800 18-Inch Electric Lawn Mower At a Glance:
Instant-starting electric mower with rear bag. Fast, precise cutting–12-amp motor and improved blade design18″ 3-in-1 deck: mulching; bagging, and discharging (optional)1-touch height adjustment. Folds down for easy, compact storage. Produces zero emissions

The low-profile design makes it easy to mow under obstacles such as hedges and benches.

The MM1800 Electric Mower can be easily folded for upright or compact storage.
Power and Performance
The MM1800 has a 12-amp motor to provide plenty of power for mulching or bagging the grass with the rear-bag assembly, and its improved blade design provides better cutting results.
Fast Starts and Quiet Operation
The MM1800 is incredibly easy to use. First, it starts instantly with a quick pull of the handle. And once started, its quiet operation–much quieter than gas mowers–means you can mow when you want to–without worrying about disturbing your neighbors.
Easy Adjustments and Storage
The one-touch height adjustment means you can quickly alter the cutting height of all four wheels at once with the pull of a single lever. And unlike traditional mowers, the MM1800 can be folded for upright or compact storage, making it ideal for those with limited space in the shed or garage.
Mulch or Rear-Bag Collection
The mower is equipped for mulching the clippings back into your lawn, which provides a natural fertilizing effect. For easy grass collection, the MM1800 is designed with a rear bag that conveniently lifts through the handle for easy emptying.
This Design Creates Zero Emissions
According to the Environmental Protection Agency (EPA), gas powered engines from outdoor lawn equipment produce over one million tons of polluting air emissions per year. The MM1800, in contrast, produces zero harmful emissions in your yard.
The MM1800 is backed by a two-year warranty and lifetime deck warranty.
What's in the Box
Black & Decker MM1800 Electric Lawn Mower; rear-bag assembly; and manual.