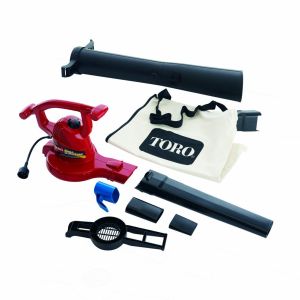 The Toro 51609 Ultra has been the bestselling blower/vacuum for quite some time. It is versatile, you get three tools in one, blower, vacuum, and leaf shredder. Quite clearly, you also get excellent value for the money.
The Toro 51609 blower/vacuum is lightweight and relatively quiet but powerful. Thanks to the quick-release latch you can convert the blower into a vacuum in seconds without tools and vice versa. The mulching function is automatically activated in vacuum mode.
The Toro 51609 is a quality electric blower/vacuum, without any significant shortcomings. It is an improved the popular Toro 51599 blower/vacuum. No wonder that it is a bestseller.
The 51609 Ultra comes with a 2 year warranty. It comes with all the accessories you need to get started. According to the manufacturer, you should not use an extension cord longer than 150 feet. Obviously, only use an extension cord recommended for outdoor use. The mulch ratio is 16:1, meaning it will mulch 16 bags of dry leaves down to one bag.
The customers have given the Toro 51609 Ultra an average rating of 4.4 out of 5. Virtually everyone thought that they had got very good value for their money. Most people said that the Toro 51609 was powerful, reasonably quiet and relatively lightweight. A few customers were unhappy with the power of the Toro 51609. Remember that it is an electric blower/vacuum, they are not as powerful as gas-powered. You can read Toro 51609 customer reviews here.
Pros
Very powerful vacuum
Adjustable speed
Excellent value for the money
Cons


Toro 51609 Blower/Vacuum Specifications
| | |
| --- | --- |
| Blower Vac Type | Corded Electric |
| Motor Amps | 12 |
| Noise rating (dB) | 67 |
| CFM | 330 (blow mode) / 390 (11 cu. m. per minute) (vacuum mode) |
| Leaf Shredding Reduction | 16:1 |
| Nozzle Velocity | Max. Up to 235 mph (378 kph) |
| Weight | 7.5 lbs. (3.4 kg) |
The following is included in the Toro 51609 box
– Toro 51609 Blower/Vac Power Unit
– Blower Tubes
– Vac Tubes
– Vac Bag (bag model No. 51601)
– Cord Storage Hook
– Operators Manual
You can buy the Toro 51609 Ultra Blower/Vacuum at Amazon.com, taking advantage of Amazon's low prices and excellent customer service. Click here to go to Amazon.com and have a look at the Toro 51609 Ultra.


Information From The Vendor
3 machines in 1: Powerful blower, high speed vacuum, and leaf shredder. Wit a powerful 235 mph maximum air speed with a minimum of 112 mph. Air volume in the blow mode is 255 cfm and 390 cfm in the vac mode. 12A motor has a variable speed control for better control in both blower and vac modes. Features magnesium impeller with serrated blades for superior mulching performance, reduces at a 16:1 ratio. Quick release latch for easy, no tools conversion. Features a unique fan design that reduces clogging and improves the vacuum´s flow rate resulting in better performance. Includes collection bag and vacuum tube. Unit weight: 7.5 lb. 2 year warranty. Uses replacement collection bag model No. 51601Toro Ultra 3-in-1 blower, vacuum, and leaf shredder makes completing yard work fun and easy