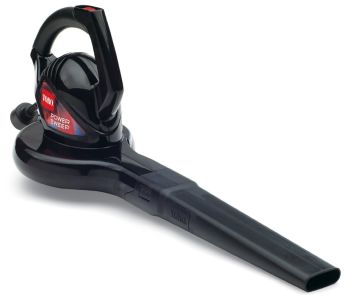 If you are looking for a good and cheap electric blower, then the Toro 51585 is the best blower for you. But bear in mind that it is not suitable for heavy debris. If you need a very powerful blower, then the Toro 51585 is not the right blower.
The Toro 51585 Power Sweep blower offers amazing value for the money. It features a 2-speed air control for greater versatility. At only 4.6 pounds, it is very easy to use. It is a very compact blower but despite the small size it is powerful. Blowers are noisy but the Toro 51585 is relatively quiet.
To summarize, the Toro 51585 blower offers excellent value for the money. It is a cheap, lightweight blower suitable for keeping patios, driveways and garages clean. It works on short grass as well but will struggle with longer grass. If you need a powerful blower for wet leaves and twigs on lawns with high grass, you may prefer the Toro 51609 blower/vacuum instead. Here you can learn more about the Toro 51609 blower. It is nothing wrong with the Toro 51585 but is not meant for heavy duty.
The Toro 51585 Power Sweep Electric Blower comes with a 2 year warranty. Like all electric blower, it is limited by the cord, you are not supposed to use an extension cord longer than 150 feet. Note that no extension cord is included.
The customers have given the Toro 51585 blower an average rating of 4.6 out of 5. In other words, most customers are very happy with their Toro 51585. Virtually everyone thought that they had got very good value for their money. According to the users, the 51585 Power Sweep is lightweight, relatively quiet and easy to operate. You can read Toro 51585 Power Sweep customer reviews here.
Pros
Lightweight
Excellent value for the money
Cons
Not powerful enough for heavy debris

Toro 51585 Power Sweep Electric Blower Specifications
| | |
| --- | --- |
| Air Speed (mph) | 160 |
| Volume of Air (CFM) | 155 |
| Speed Settings | 2 |
| Impeller Material | Plastic |
| Weight | 4.6 Lbs. |
| | |
| --- | --- |
| Extension Cord Length | Minimum Wire Gage (A.W.G.) |
| 50 ft | 16 |
| 100 ft | 14 |
| 150 ft | 12 |
Do not use multiple extension cords or an extension cord over 150 feet.
You can buy the Toro 51585 blower at Amazon.com, taking advantage of Amazon's low prices and excellent customer service. Click here to go to Amazon.com and have a look at the Toro 51585.


Information From The Vendor
7.0A motor generates a powerful air speed of 160 mph with a minimum speed of 130 mph. Air volume at 155 cfm. 2 speed air control is perfect for clearing leaves and debris from sidewalks, decks, and driveways. Lightweight and easy to use. Unit weight: 4.6 lb. 2 year warranty. Generates powerful air speed of 160 mph