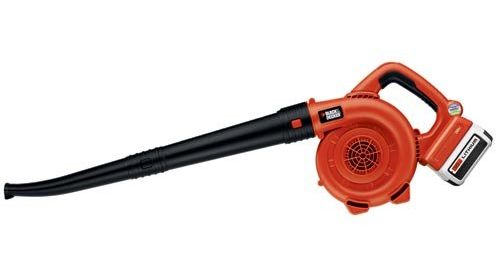 The Black and Decker LSW36 is a small but powerful cordless sweeper. It is easy to use and very quiet, it's rated at 66 dBA. Thanks to the powerful 36V lithium-ion battery, it can be used for more than 30 minutes before it starts to lose power.
For being a cordless sweeper, the Black and Decker LSW36 is powerful but it is best for hard surface such as patios and walkways. It can be used on lawns but the grass has to be short. If you want to keep your lawn clean, a gas-powered or corded blower is a much more efficient solution.
The Black and Decker LSW36 is very portable, weighing just 4.7 lbs. Don't get shocked by the small size of the packet. It contains everything, LSW36 sweeper, LBX36 36-volt lithium-ion battery, LCS36 36-volt fast charger, blow tube and operating instructions. The charger recharges the battery in about an hour.
The Black and Decker LSW36 has several useful features. The blow tube has a built-in scraper, allowing you to loosen matted leaves and stuck-on debris. It has speed control so that you can choose between maximizing run-time (by using low speed) or maximum power. It has a comfortable soft grip handle and is well balanced.
The main drawback with the LSW36 is the price, it is fairly expensive for being a sweeper. As mentioned earlier, it is meant for hard surfaces, not for lawns. If you have a lawn, you may want to buy a blower, which can also be used to keep the hard surfaces clean. Of course, the LSW36 is quieter and more environmentally friendly than gas powered blowers but gas powered blowers are much more powerful. Corded blowers gives you more bang for the bucks, they are more powerful without being more expensive, but you are of course limited by the cord. The cordless LSW36 on the other hand is very easy to use, you don't need to worry about gas or a cord.
The Black and Decker LSW36 comes with a 3 year home use warranty.
The customers have given the Black and Decker LSW36 sweeper an average rating of 4.2 out of 5. Most of the buyers said that they had got good value for their money. The blower was said to be lightweight, compact and relatively quiet. You can read Black and Decker LSW36 customer reviews here.
Pros
Cons
Not powerful enough for lawns


For more information about the Black and Decker LSW36, check out the user manual
You can buy the Black and Decker LSW36 sweeper at Amazon.com, taking advantage of Amazon's low prices and excellent customer service. Click here to go to Amazon.com and have a look at the Black and Decker LSW36.


Information from the manufacturer
The Black & Decker LSW36 36V Lithium Ion Sweeper has an efficient design that easily clears debris from hard surfaces like patios, decks, walkways, driveways and garages. Its soft grip handle provides added comfort during use. Its blow tube with built-in scraper allows users to loosen matted leaves and stuck-on debris. Powerful 36-volt lithium ion rechargeable battery delivers the power with long run-time to complete the toughest jobs