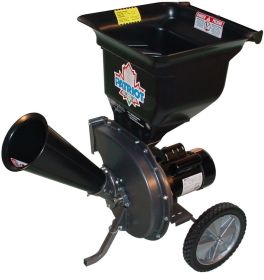 If you have never heard of Patriot Products you may be surprised to know they have been making shredders and other equipment for twenty years. The Patriot Products CSV-2515 Shredder is one of those products. In 2005 they also started manufacturing accessories for chippers and trimmers. They have built up a respected name in the lawn and garden industry is a very short time.
What Can The Patriot Products CSV-2515 Shredder Do?
– Easily shred mountains of leaves
– Make coin-sized chips out of branches up to 2.5 inches in diameter
– Shoot the processed material out the side of the machine into a collection bag
– Starts with just the flip of a switch
– Can be transported easily with the large wheels and convenient handle
The Patriot Products CSV-2515 Shredder is for home owners and professionals that are serious about lawn equipment. Patriot believes their products are the best products and feel their prices are highly competitive.
And speaking of the price; the Patriot Products CSV-2515 Shredder is not low cost. However, we did find one for under $950 on Amazon. Plus Amazon is offering free shipping on this product, which is another huge savings. Even with the steep price the Patriot Products CSV-2515 Shredder got great reviews from customers.
Why The Patriot Products CSV-2515 Shredder And Not A Gasoline Model?
– Has no ugly fumes
– Turns on with the flip of a switch
– Can be used inside your garage, basement, or hothouse
– Plugs into a standard 110 volt outlet
– Only needs an extension cord, no fuel
– Weighs less than 100 pounds for easy transported
More great things about the Patriot Products CSV-2515 Shredder are the fact this electric chipper was rated a "Best Buy" by Consumers Digest magazine, and the fact is has a two year warranty. You also get the collection bag and safety goggles with the shredder.


What Customers Say About The Patriot Products CSV-2515 Shredder
The customers have given the Patriot Products CSV-2515 Shredder an average rating of 4.2 out of 5. In other words, most customers were happy with their electric CSV-2515 shredder.
The Patriot Products CSV-2515 Shredder is a powerful piece of machinery that gets the job done, according to most users. However, a few customers feel the feed chute is too small, making it prone to getting clogged.
One customer was at first upset that the debris that had collected around the blade was hard to remove. He did figure out that taking a water hose and flushing it out worked great. The majority of the reviews on this product were fantastic, and surprisingly, customers were not complaining about the price. This must mean that they feel the Patriot Products CSV-2515 Shredder is worth what they paid for it, and that is performing to the standards you would expect of a machine of that caliber.
Here are some customer remarks:
"I was very impressed with the power this electric chipper has. I was able to chip wood up to 2 inches in diameter with no problem except that the chipper pulls the wood into the machine faster than the machine can handle. So when chipping thick branches it is important to grasp them firmly and pull back when the chipper starts to pull them in too quickly. Be prepared, it pulls hard! If you are patient and feed at the correct rate you should not have any problems with clogs."
"Eats up every leaf and branch. This unit is very powerful and so far has handled anything I put in it. You need to follow the directions on how to put materials into it and, if you do, it should do the job for you. I have 32 trees in my backyard and 25 of them lose their leaves, so there is a lot of leaf shredding going on and some branch removal."
"We love this Patriot chipper. We wanted something just for leaves and small branches for my compost bin. It was easy to assemble and is very easy to operate. We feed the debris into the chipper at an even feed and have had no jamming. Also light enough to easily move from one location to another. The leaves shred to about one tenth their size which will work out great for mulch and compost. And it's made in the USA!"
Customer remarks have been paraphrased to save space.
You can read more Patriot Product CSV-2515 reviews here


Patriot Products CSV-2515 Shredder Review Summary
We feel that these minor complaints are not enough to give this unit a bad review, in fact, quite the opposite. We highly recommend the Patriot Products CSV-2515 Shredder for your shredding needs. If you are looking for a powerful electric shredder, you should have a closer look at the CSV-2515.
You can buy the Patriot Products CSV-2515 Shredder at Amazon.com, taking advantage of Amazon's low prices and excellent customer service. Click here to go to Amazon.com